An Introduction to Sustainability
Sustainabililty has been at the heart of PoliNations since day one, and as the project progresses, we are keen to share our thoughts, decisions and learnings on how we're making this large-scale outdoor event as sustainable as possible. Production & Events Manager and Sustainability Lead Jenny Hutt and our Sustainability Consultant Helen Freudenberg will be sharing a number of blogs, posts and Q&As to track our impact. This is the first one - welcome!
PoliNations is being created and produced by a diverse collective of like-minded independent creative companies working together to produce an epic outdoor cultural & horticultural arts event in Birmingham in 2022, celebrating colour, beauty, natural diversity, nature and greening cities, to which everyone is invited!
With a creative staff team of around 30 people and an additional 250 people working on the project including dancers, musicians, speakers & artists, crew, production and events teams and 100 volunteers, sustainability is at the heart of what we do and it has been since the very start of our conversations about this fantastical, floral project. We want to make sure that sustainability is considered in every decision we make.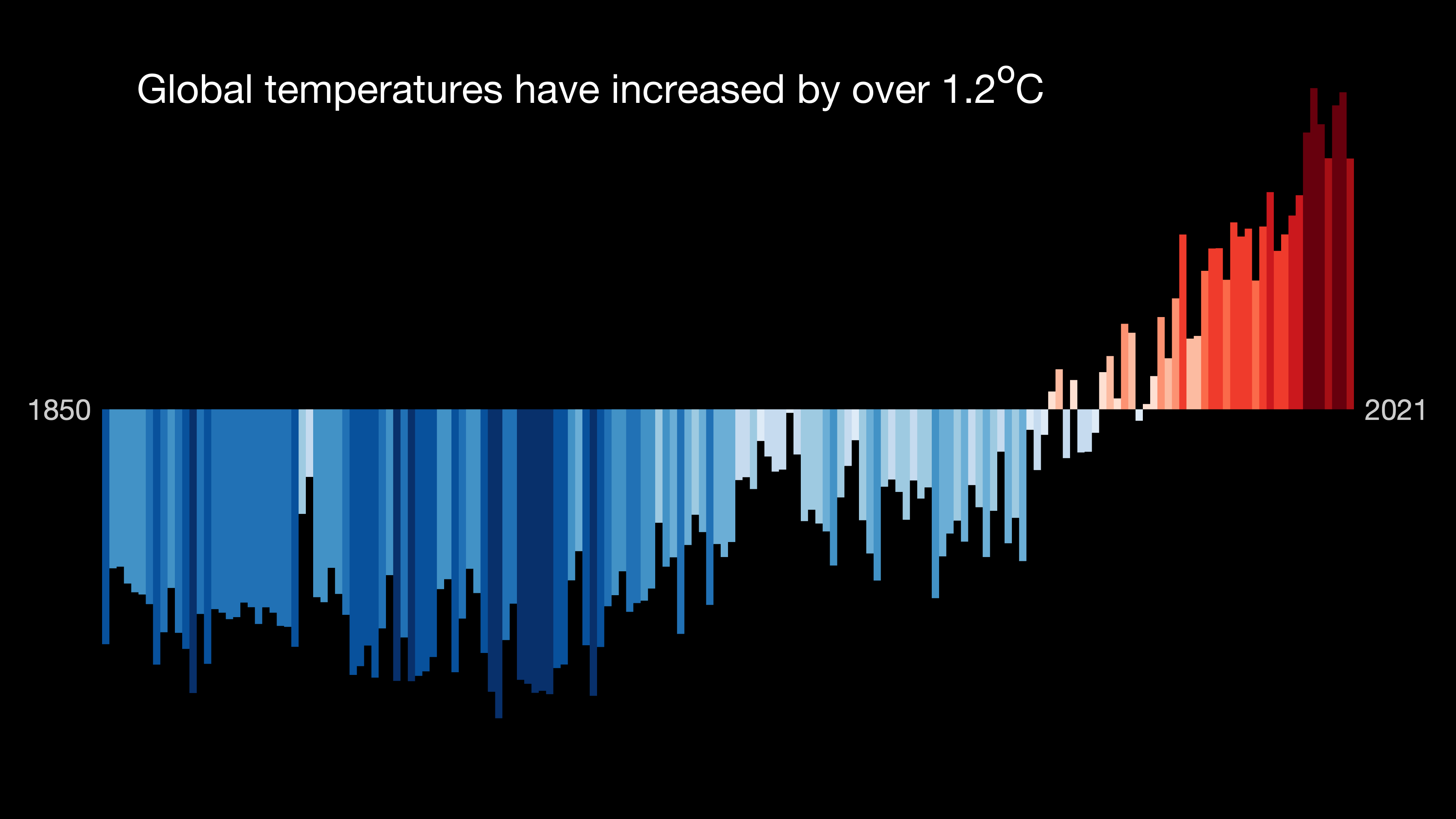 Credit #ShowYourStripes [1]
The image above shows the huge increase in global temperatures and research tells us we have 7 years to stop the world from warming so much that we can't go back [2]. The festival industry is responsible for over 24,000 tonnes of greenhouse gas emissions in the UK every year [3], which is a sobering statistic. But the good news is, the industry has the power to not only reduce the direct impacts of live events, but also to lead by example and show its audiences sustainable alternatives at the events they love so that we can continue to enjoy festivals like this for years to come.
For PoliNations, this means thinking about sustainability from the beginning to the end and beyond, and we're lucky that we have an amazing team who don't need any convincing that being sustainable is the right thing to do! In practice this means looking at the sustainability of different materials used to build a stage or sculpture or in a costume, as well as its design; working out the power requirements for the shows; making sure waste is appropriately sorted and disposed of; limiting team flight travel; designing a website that has a low negative environmental impact; bringing sustainably sourced plant-life into the space and working out where it will go afterwards; working with sustainable suppliers and low carbon logistics to name a few. Everyone working on the creation of our project has sustainability on the brain, and we're also taking guidance and advice from professional sustainability consultants along the way to ensure we're really considering all the options. The aim? To show that it is possible to produce outstanding, high impact arts events whilst minimising the detrimental impacts on the environment.
We're doing this within the framework of our Sustainability Policy and Action Plan which the team created together to keep us on track.
One of the main commitments of the project is to publicly share knowledge and our experience about the processes and choices made to inspire others so you'll find lots of info in our blogs in the coming months from 'Making drag sustainable' to 'The Future of our Plants'.
Written by Helen Freudenberg