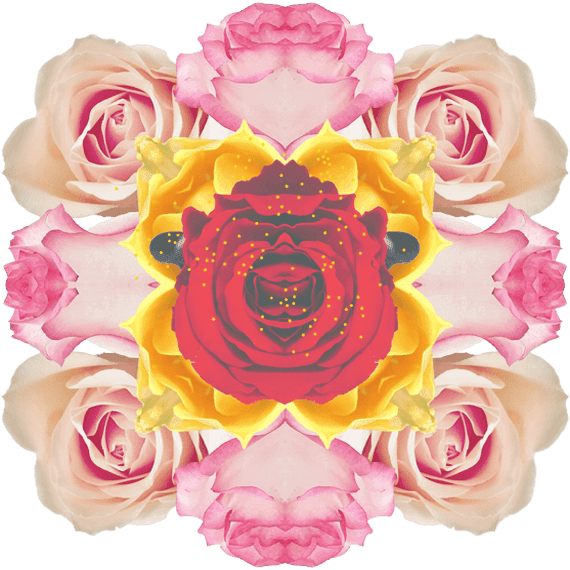 A plant of poetry. Throughout history the rose has featured in literature and mythology from across the world, and has come to represent many things: love, war, purity and friendship among others. In a happy reflection of cultures coming together, it's only in hybridising with the Chinese rose, that the English Rose came to flower for as long as it does now.
Listen —

Iconic Plant Rose Voiceover with Music Composition
The story
Origins
Flowers send signals to various creatures, but for a long time the rose has been used by human beings to signal to each other. Roses entwined the triumphal banners of Roman armies and Emperor Nero had swaggering banquets so jammed with blossoms that the scent was overwhelming.
The Egyptian Queen Cleopatra adorned herself with rose-scented olive oil as a tool for seduction and today, strewing rose petals around the bride and groom is a reminder of amorous delights in many cultures. [Associated with the Greek god of silence, roses were painted onto ceilings above Roman diners and hung over royal diplomatic meetings in the middle-ages, signifying secrecy. Today, the Scottish government bills off-the-record political gatherings as sub rosa.]
connections
Roses have a particularly close connection with Islam. By tradition, roses sprang from beads of sweat of the prophet Mohammed and from the 16th century they were a favourite in gardens across the Mughal empire, which were modelled on Persian horticulture and design. They are still a focus of national pride in Iran, where they are celebrated in rose festivals and where, along with the USA, UK and ten other countries, it is the national flower.
the rose make-up
The tall, open bushes of the stunningly fragrant, pink Damask rose, grown in Bulgaria, Turkey and central Iran, are the main source of flavourings and scent. Rose water, produced in quantity by boiling petals in water and condensing the vapour, is used liberally in regional confectionery such as rahat lokum (Turkish delight) and the less cloying, pistachio-laden Iranian rahaat.
However, attar, the fabulously concentrated oil of roses coveted by perfumiers, requires herculean effort to produce. Seven thousand blooms gathered at their early-morning peak and distilled the same day yield just a teaspoonful of oil, yet worth a king's ransom.
across cultures
The engulfing scent and voluptuous splendour, especially of red roses, have woven them with love and romance. When the Scottish poet Robbie Burns wrote, "My love is like a red, red rose", his simile would have been equally familiar in Turkey, Iran, Pakistan and India. White roses for purity and innocence; pink for trust and happiness; the meanings are similar in most cultures.
However, yellow roses which signify friendship and joy in Europe and North America are still sometimes associated with jealousy in East Asia. While the flavour of rose desserts teeters between transcendent bliss and the sensation of eating soap, there is no doubt that the world needs more of the love that red roses universally signify.
Listen —

Rose Tingying Dong
Explore more
Want to delve deeper into the world of trees and plants?
Check out author Jon Drori's beautifully illustrated works, Around the World in 80 Trees and Around the World in 80 Plants - intertwining botany with history, culture and folklore. Both are available from all booksellers or via Jon's website. Jon has very kindly offered a 25% discount with the voucher code 80JONDRORI.
Lick below to listen to original music by Tingying Dong, alongside spoken text by Jon Drori created in response to the Rose, Iconic Plant and commissioned especially for PoliNations. Narration by Jade Samuels. To listen to the music by itself. click the link further up the page.
Illustration by Lucille Clerc.